NOW AVAILABLE!
AMSTEEL BLUE® by Samson Rope.
Also now available, "optional" extension handles!
Cut your effort in half with a longer handle.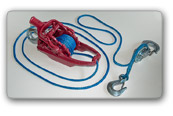 Features:
2 ton and 3 ton capacity (dead lift rating)
26 lbs. of solid ductile iron construction
Extra heavy duty 5/16" (6 x 37) wire rope OR amazingly strong 5/16" Amsteel Blue® synthetic rope
More built-in safety factors than other brands
Easily field repairable and inexpensive to maintain
The More Power Puller® lasts for generations
SAFE - DEPENDABLE - RUGGED - PORTABLE
The More Power Puller® has been manufactured by The Wyeth-Scott Company since 1934. We are proud to state that it is the safest and most durable cable puller ever made. This heavy-duty industrial portable ratchet puller/hoist is not the type of light-weight puller found at most home centers or discount stores - it has been designed and proven to perform in a variety of demanding environments without bending, breaking or collapsing.
Please compare the construction of The More Power Puller® to other cable pullers. The components are made of solid, thick iron - not aluminum. The cable is 5/16" flexible wire rope - not the more common 1/4" (or smaller) aircraft cable. The More Power Puller® is not light-weight like other brands of come alongs. Our cable puller is 26 pounds of iron and steel.
The design of The More Power Puller® hasn´t changed much in over 81 years (why change a good thing?). This hand winch will last for generations. We regularly service pullers that are 30 to 55 years old, and often, all they need is a new cable or spring. We are confident you will find The More Power Puller® to be reliable, safe and heavy duty tool that will prove to be indispensable.